Thursday 16th of December 2021 08:31:29 AM
FDIC's Williams accuses CFPB director of seeking control of FDIC board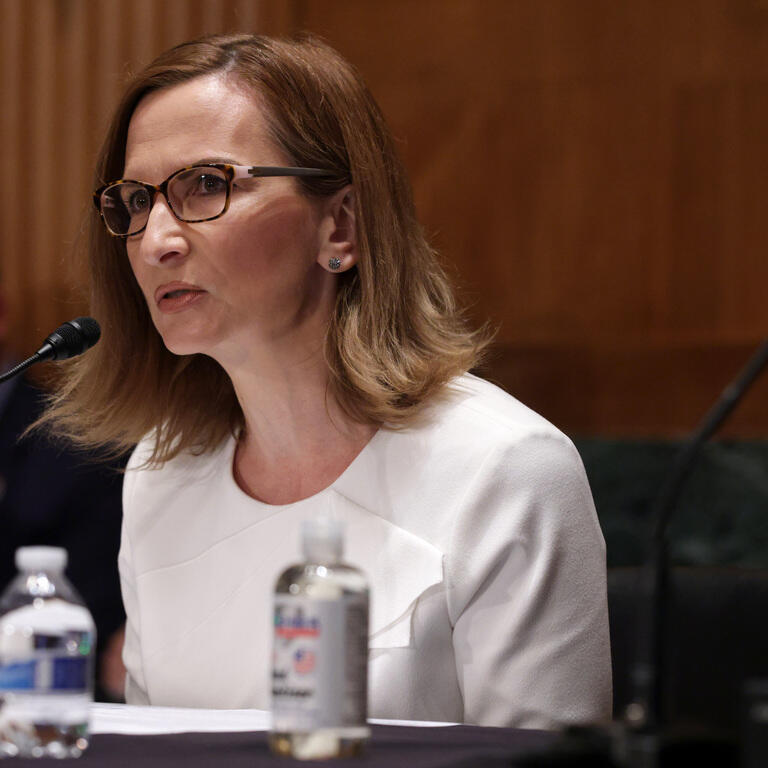 Alex Wong/Getty Images News
A squabble among banking regulators has turned public as Jelena Williams, chair of the Federal Deposit Insurance Corp. (FDIC), pens an op-ed in the Wall Street Journal, accusing the head of the Consumer Financial Protection Bureau of trying to seize control of the FDIC board.
Williams was appointed to her role to head the FDIC in 2018 by President Donald Trump, while Rohit Chopra was named to head the CFPB by President Joe Biden.
The day after Thanksgiving, Nov. 28, a deputy to Chopra sent an email from his CFPB account to the FDIC board distribution list, "purporting to circulate a vote on a document" that Chopra had sent to Williams on Oct. 31, requesting information on bank mergers. Chopra had presented the document requesting public comment about the FDIC's merger review process and insisted on its publication, what Williams called an unprecedented move.
The Nov. 28 email "was a brazen attempt to seize control from the FDIC executive secretary, who alone is in charge of official board distributions," she said.
Williams said the FDIC staff was willing to work with the CFPB on a document "to better reflect the agency's historical approach and do so on an expedited basis to meet their desired timing." She had said such a document would be available by Dec. 8.
Whoever prepared the CFPB  document "didn't understand the FDIC's merger-approval process particularly well," Williams said in the op-ed, adding that FDIC staff found that it was "filled with omissions, misrepresentations, and technical inaccuracies."
The in-fighting is likely to cause delays in the bank merger approval process, according to Jefferies's risk/arbitrage morning note. "Bottom line, we suspect such politicking and resource-wasting maneuvering has/will result in ma more protracted merger approval process," the note said.
The firm points out pending deals such as Allegiance Bancshares (ABTX +3.9%), Level One Bancorp (LEVL +0.6%), Reliant Bancorp (RBNC +3.6%), Spirit of Texas Bancshares (STXB +1.5%), and Umpqua (UMPQ +1.6%).
Another deal in the balance is the $6.5B merger of Old National Bancorp (NASDAQ:ONB) and First Midwest Bancorp (FMBI +4.3%).
Dear readers: We recognize that politics often intersects with the financial news of the day, so we invite you to click here to join the separate political discussion.
ABTX
LEVL
RBNC
STXB
UMPQ
ONB
FMBI